Red Wine
»
Catena Zapata Nicolas 2014 (Rv)
0 ratings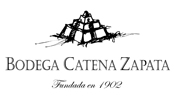 Varietal(s): Cabernet Sauvignon & Malbec
Colour: Saturated dark violet.
Nose: Thick aromas of black cherry, dark chocolate and licorice, enlivened by minerals, violet, pepper and herbs
Palate: Full-bodied, powerful yet elegant with an array of aromatics from pencil lead, espresso, mocha and black currants. Great depth with precise balance
Across any 2S$158.00
Across any 1S$162.00
This item is currently out of stock.