White Wine
»
Pegasus Bay Aria 2014 (Rv) Late Picked Riesling
0 ratings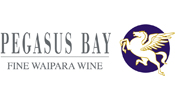 Varietal(s): Riesling
Colour: Rich gold
Nose: Shows ripe stone fruit characters hint of peaches and apricots intertwined with lychees, loquats and fresh figs.
Palate: Honeysuckle and comb honey characters come from the botrytis., with underlying citrus impressions of lemons, limes and mandarins, supported by a core tingling acidity and minerality.
Across any 2S$68.00
Across any 1S$70.00
This item is currently out of stock.