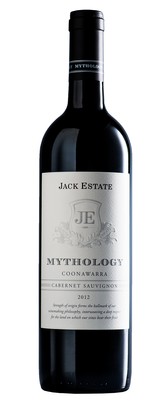 Red Wine
»
Jack Estate Mythology Cabernet Sauvignon 2012 (Rv)
0 ratings





Colour: Brilliant deep crimson red with purple hues.
Aroma: Beautifully ripe blackberries, fresh dark summer berries
and just a hint of fresh mint and cacao.
Palate: Dark fruits mingle with vivid flavours of raspberries and
plums, dark chocolate and coffee beans. Intensely full bodied
with silky tannins, complemented by well-balanced French oak
and a long structured finish.
Food Pairing: Enjoy with mustard and herb beef wellington and
a rich red wine jus.
Awards:
94 POINTS - 2016 James Halliday Wine Companion
GOLD - 2016 Limestone Coast Wine Show
GOLD - 2015 Shanghai International Wine Challenge
GOLD - 2014 Mundus Vini International Wine Show
SILVER - 2016 China Wine and Spirits Awards
SILVER - 2015 Royal Queensland Wine Show
BRONZE - 2016 Decanter Asia Wine Awards
BRONZE - 2015 Macquarie Group Sydney Royal Wine Show
BRONZE - 2015 Melbourne International Wine Competition
BRONZE - 2015 Limestone Coast Wine Show
BRONZE - 2015 Royal Adelaide Wine Show
BRONZE - 2015 Perth Royal Wine Show
BRONZE - 2014 Royal Adelaide Wine Show
BRONZE - 2014 Royal Melbourne Wine Awards
BRONZE - 2014 Royal Hobart Wine Show
BRONZE - 2014 Limestone Coast Wine Show
Across any 2S$83.00
Across any 1S$85.00