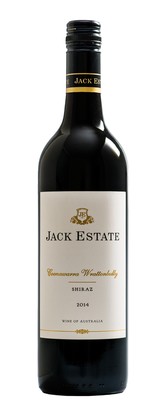 Red Wine
»
Jack Estate Coonawarra Shiraz 2013 (Rv)
0 ratings





Colour: Flecks of purple set in a brilliant ruby red.
Aroma: Bramble berries and mulberries with hints of cloves and
rich spices.
Palate: A complex array of dark berries meld with raspberry,
dark chocolate and star anise. The wine rich fruit and spice is
balanced with subtle oak and velvety tannins, which combine to
deliver an intense, yet elegant finish.
Food Pairing: Enjoy with a tender rack of lamb, gremolata and
maple syrup glazed roast vegetables with lashings of your best
olive oil.
Awards:
TROPHY - Best Shiraz of Show 2015 Limestone Coast Wine
Show
GOLD - 2015 Limestone Coast Wine Show
GOLD - 2015 Sydney International Wine Competition - TOP
100/ Blue Gold
GOLD - 2015 China Wine and Spirits Awards – Best Value
GOLD - 2014 Royal Hobart Wine Show
GOLD - 2015 New World Wine Awards
SLIVER - 2015 Royal Melbourne Wine Show
SLIVER - 2015 Melbourne International Wine Competition
SILVER - 2014 Royal Melbourne Royal Wine Awards
SILVER - 2014 Limestone Coast Wine Show
BRONZE - 2015 Royal Queensland Wine Show
BRONZE - 2015 Royal Adelaide Wine Show
BRONZE - 2015 Perth Royal Wine Show
BRONZE - 2015 Macquarie Group Sydney Royal Wine Show
BRONZE - 2014 Royal Adelaide Wine Show
BRONZE - 2014 126 th Rutherglen Wine Show