White Wine
»
Henri Bourgeois Sancerre Blanc Les Baronnes 2019 (Rv)
0 ratings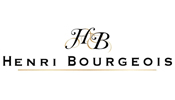 Grape variety: Sauvignon Blanc
Terroir: Chalky-clay
The hills and ridges separating the village of Chavignol from Sancerre are composed of clay and limestone chalk (65% clay and 35% chalk). "Les Baronnes" comes from this terroir so long planted with vines.
Delicate nose with aromas of white flesh fruits and citrus, this Sancerre is highlighted by its typicity and its great expression of the Sauvignon grape.
"Les Baronnes" is a wine of exotic fruit and citrus aromas; subtle yet powerful. Its persistence and harmony find their origin in the exposition and quality of the terroir.
In order to preserve and develop the aromatic potential, this fine wine is fermented then matured on its fine lees for 5 months in thermo regulated stainless steel tanks at 15 - 18°C.
A delight at the beginning of the meal, "Les Baronnes" is an excellent companion to fish dishes.
Kernel of scallop with mango emulsion, a roll of bass in curry and of course, the famous Crottin de Chavignol goat cheese are sure to tempt you and your guests!
Across any 2S$59.00
Across any 1S$61.00