White Wine
»
Henri Bourgeois Pouilly Fume La Demoiselle De Bourgeois 2013 (Rv)
0 ratings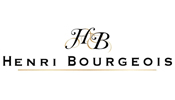 Grape variety: Sauvignon Blanc
Terroir: Kimmeridgian marl.
Made from a strict selection of the best Sauvignon grapes, La Demoiselle is harvested on the Kimmeridgian marls of Saint- Laurent l'Abbaye, where the first vines of this AOC were planted.
Due to style and fine presence, this wine is a model of pure and delicate expression of the Sauvignon Blanc.
In the style of a Grand Cru, La Demoiselle may age in bottle for 8 to 10 years. This is a wine to discover over time due to its intriguing evolution. In the first years, the fruit of the Sauvignon grape dominates with a discreet hint of terroir and small wood notes at the finish. With time, sensations become more homogenous, the terroir more expressive and the evolved Sauvignon shows us its complex (and unfortunately too rare) aromatic palate. Finally, the light wood notes are completely melted away bringing enormous depth to this great wine...
90% of the wine is fermented in stainless steel vats at 15 to 18°C with the remaining 10% fermented in oak barrels from the Tronçais forest.
Maturation takes place on fine lees for 7 to 8 months.
Great wines are not difficult to match with fine cuisine so the possibilities are numerous. The first rule to follow is to please yourself: are your tendencies more white meats or fish?
"Steamed skate with spinach in a tangy sauce"; "Filleted farm hen breast in supreme sauce with roasted apple macaire".
Across any 2S$79.00
Across any 1S$81.00