Red Wine
»
Catena Zapata Malbec 2010 (Rv) Adrianna Vineyard
0 ratings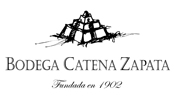 Varietal(s): Malbec
Colour: Saturated dark violet.
Nose: Hints of cassis, ripe red fruits, lavender, coconut and tobacco
Palate: Powerful and deep, with a strong grip of cassis, chocolates and minerals. Slight liqorice notes with remarkable structure and fine tannins.
Across any 2S$165.00
Across any 1S$170.00
This item is currently out of stock.