Champagne
»
Ayala Brut Majeur Champagne
1 ratings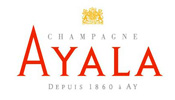 Champagne AYALA is one of the greatest Houses of Champagne with a unique history, founded in 1860, in the heart of the great vineyards of the Montagne de Reims. Property of the Bollinger family since 2005
Tasting Notes
Pale gold in color with a very fine mousse, the wine is aromatic on the nose. On the palate, it is well balanced and shows great finesse and complexity.
Pinot Noir and Chardonnay bring vinosity and delicacy together in a very harmoniously balanced blend.
The complement of Pinot Meunier adds a charming touch of fruitiness and liveliness.
Ageing
More than 2,5 years on the lees. Rests in the cellars for at least 3 months after disgorgement.
Pairing with food
Delicious as an aperitif, Brut Majeur is also the perfect wine to serve throughout a meal. It will pair perfectly with sea food, scallops, lobster, crab, fresh or grilled fish, fish terrines, salmon or beef carpaccio, as well as with sushi and Asian cuisine.
Brut Majeur also goes along extremely well with white meats, hot pot ("potée champenoise") and white pudding ("boudin blanc").
Cheeses : Soft and mouldy cheeses such as Boursault, Coulommiers, Chaource, Brie, Brillat-Savarin
Desserts : Major parings include crumble with red berries or figs, fruit-based desserts (apple, pear or peach tarts), almond paste, frangipane pastries such as the French "Galette des Rois"
Across any 2S$65.00
Across any 1S$70.00
This item is currently out of stock.